It is 1987. A Mars Bar costs 20p. Margaret Thatcher has just secured a historic third term. George Michael Wants Your Sex, Bono is With or Without You and Rick Astely is Never Gonna Give You Up. Topping them all in September I join the third series of the Really Wild Show as a 21 year old researcher on loan from university. On arrival at the plush BBC offices in the upmarket end of Bristol I am instantly awestruck. After all this is the BBC Natural History Unit, the people who had produced Life on Earth, a programme I'd watched over and over again on my video player until the tape broke.
Now I was working there. Well not quite working. I was volunteering as the BBC couldn't afford to pay me. So instead I was researching the show while claiming the dole and living in a bedsit in the downmarket end of Bristol.
I'd been interviewed by John Sparks, the head of the BBC Natural History Unit. On arrival in his office he'd looked me up and down with a mixture of curiosity and amusement. I sported the one good pair of smart trousers I owned but they were far too short for me. I'd also borrowed a shirt and one of my Dad's garish 1970s kipper ties. And to cap it all I had a mop of unruly and bright red hair.
He asked me why I wanted to work there and had then given me a natural history test. I'd got all the answers right and to boot had produced the remains of an adder skin from my back pocket. I like to think that sealed it. Then again he may just have felt sorry for me due to my attire. Whatever he thought, I was certainly keen.
The Really Wild Show 'team' consisted of Sarah, Hilary and Melinda who were all senior researchers and were established members of the unit. The two co-producers were Alastair Fothergill and Paul Appleby. Alastair was incredibly driven and was clearly going places at the BBC. He had already been to Kenya to film a Wildlife on One called the Bee Team. It was all about social co-operation in Bee eaters and showed how brothers, sisters and cousins all help to feed the brood. He was particularly proud of the opening sequences which he had edited to mimic the tv programme Dallas complete with its famous theme tune. Paul was much more down to earth and had previously been the librarian at the unit.
My main role in the team was making the tea, opening the mountains of fan mail and magically conjuring up a Basilisk, Badger or Fruit Bat depending on what animal Alastair or Paul had planned for the sequence. The art was to do so without parting with any money if possible as the BBC really didn't like paying for anything. So firstly that meant convincing someone to bring along an animal pro gratis for the wonder of being on the Really Wild Show. If that wasn't enough you could offer a plug on the programme.  And if all else failed they would get a credit at the end. Many of the more responsible zoos turned this down as understandably they wanted paying for their troubles.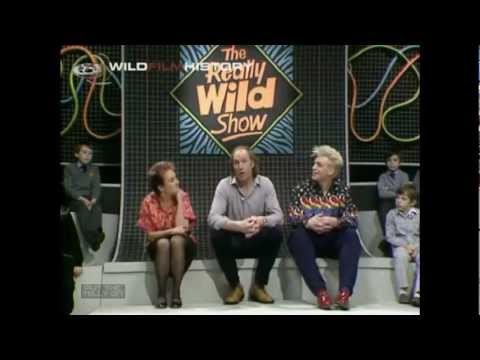 So instead we turned to a black book of animal contacts who sometimes in breach of CITIES kept animals at home. It never failed to amaze me what animals people kept as 'pets'. A man bought in a plumbers bag to the studio and when he unzipped it a long, forked tongue appeared. He had purchased a six foot Monitor Lizard to stop his house being burgled. Other people kept pet badgers and someone even bought in a baby giraffe. That surely must have outgrown its home.
When it finally came to filming the show I got to meet the shows presenters, Nick Davies, the late Terry Nutkins and Chris Packham. Nick was always smiling, both on and off the camera and for filming was always placed in the middle of the 'boys' so she could act as the sensible one. Terry I'd known from his days as Johnny Morris's side kick on Animal Magic. He had the most magnificent Bobby Charlton comb over which kept shooting off his head and sprinting out to one side. So Terry played the role of the mad professor. He was a lot of fun and played it to a tee, often fluffing his lines which became a bit of a running joke.
And then there was Chris Packham. With his bleached blonde spiky punk hair, handsome good looks and outlandish dress sense he resembled a giant cockatiel. He wore DMs, his hair always looked immaculate and he modeled a wide range of animal shirts which his sister Jenny made for him. Chris was the one with the encyclopedic knowledge, the know all. He was my hero.
Chris got twice as many fan letters as the other two presenters combined.  He was the undoubted star of the show even at the age of 27. Most were from kids who wanted to know with monotonous regularity the biggest or smallest animal in the world but some were from women who sent him very suggestive letters. A few went as far as including their underwear which caused great titillation to break out in the team. Chris was always very flattered but also slightly bemused by all the attention.
The third series of the Really Wild Show we all worked on together had some memorable moments. Nick launched a Basilisk off a diving board into a pool but despite its popular nickname of 'Jesus Christ lizard' it adamantly refused to walk on water, instead swimming serenely beneath the surface. Terry put his head into the mouth of a Killer Whale while cleaning its teeth and nearly passed out from its bad breath. And Chris memorably married a King Penguin, declaring 'I do' while shivering in a freezer at a temperature of -18C. Filming the piece took three takes so by the time it was finally in the can Chris was frozen solid. As a result of all this madness the show deservedly won a BAFTA.
By the time of its demise in 2006 the Really Wild Show had been on our screens for 20 years and there are still occasional press reports it will be bought back. Since my time on the show I've lost touch with everyone expect Chris. I was delighted when he got the role fronting 'Springwatch' and have watched his career flourish despite repeated attempts by the hunting lobby and the Countryside Alliance to get him sacked. Over the years I've interviewed him on a number of occasions and we bumped into each other again recently when we marched together in London to stop badger culling, fox hunting and driven grouse shooting.
What I admire most about Chris is that unlike many other celebrities he is willing to use his celebrity to court controversy for the sake of a good cause and he puts his money where his mouth, his self funded campaign to stop the massacre of birds on Malta being a good example. He works tirelessly for a host of organisations from the RSPB to Population Matters, in the process helping to highlight many causes from the persecution of England's dwindling Hen Harrier population to the decline in our biodiversity caused by overpopulation.
The reason he seems to divide opinion so starkly is precisely because he is passionate, speaks his mind and is willing to stand up for what he believes in. In the pressured and unforgiving world of television those are rare qualities.
Nicholas Milton
I am a marketing and communication expert with over 20 years experience. Over this time I have campaigned on issues I feel passionately about - conservation, climate change, racial equality, land reform, rural poverty and most recently international development. I am also a successful freelance journalist and have been published in the Guardian, Times, Daily Telegraph and the Independent.
Contact details
Email: nicholasmilton@hotmail.com Telephone: 0044 7880 622059
Subscribe to my blog